Napoleon's Invasion of Russia. (1 картинка)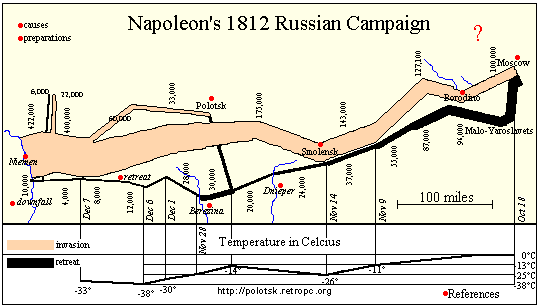 This graphic is an adaptation of M. Charles Joseph Minard, a retired French Civil Engineer's, figurative map created to depict the tragedy of modern war. This map is particularly famous for the many dimensions of information it includes (army geographic location, direction, and number; time; and temperature). Other versions are available from Works Consulted. The peach band represents the size of the invading French army. The black represents retreating survivors. The scale is approximate. The temperature conversions have been rounded standard. The red circles represent keys to other pages. The question mark on the map and on page headings lead to a list of officers' affiliations.
Oudinot had occupied Polotsk on 26 July. He then headed north hoping to cut Wittgenstein's communication with St. Petersburg. Instead he was attacked by Wittgenstein's troops. He had actually believed the Russian troops in that area were more expansive than they were. He mistook the grossly depleted front line battalions for rear reinforcements and withdrew, thinking himself outnumbered. He was obliged to resume fighting the next day when his second corps made it back across the Drissa. Napoleon re-ordered the offensive with St. Cyr's weak sixth corps of 12,000 Bavarians. Oudinot was wounded on the first evening and St. Cyr commanded the French soldiers the next day. At Vitebsk, Napoleon ordered a halt. They had gained territory, towns, prisoners, and supplies, but their loses were worse than if they had engaged in battle.